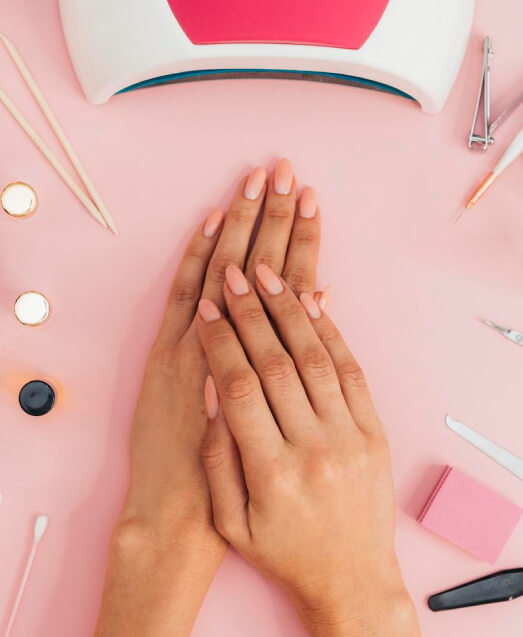 Nail Salon Insurance
If you are a nail enthusiast, you know that choosing a nail artist is like picking a boyfriend. You have to try multiple salons and nail technicians until you find the one that can bring your manicure ideas to reality like the DaVinci of acrylic and nail polish. Nails are more than just a hard thing on your fingers. They are natural canvases waiting to be transformed into a great piece of art to make a fashion statement every day; no matter what you are wearing.
We know that great nails don't just grow, it takes a lot of effort, imagination and hard work to create a beautiful nail design, simple and yet trendy. It's just like running a Nail Salon. As the owner, you've spent many months building up a place where people can come and have an amazing and creative nail experience; but when someone gets their nails filed too hard, that dream seems to fall off your hands.
Nail salons offer a significant amount of nail care services like nail painting, manicures, pedicures, nail repairs, acrylic nails, among others. Despite your efforts, accidents could happen while one of your nail technicians sculpts a nail. Maybe one of your clients is allergic to the chemicals used to remove a gel nail or develops skin damage due to the UV light used to harden the product, and now you have to face a claim for compensation. Soon you'll find out that a Nail Salon Insurance is crucial to protect your business and your pockets against sudden losses of revenue due to unexpected events.
Nail Salon Insurance is crucial to managing a successful business even in the worst case scenario. Today we are going to help you with the policies you should consider for your nail salon and get the coverage you need to be on top of the nail industry.
Business Owner's Policy (BOP)
The Business Owner's Policy is a bundle that incorporates General Liability coverage with Commercial Property Insurance, which means that you will get the basics for your business entirely under cover. You will get back up in case of any lawsuit filed against your business for liability related situations, for example, if a customer walks into your Nail Salon and slips with some water residues from the pedicure tub and then files a claim. You will get an attorney to represent you, and any legal fee will be paid by the insurance and any payments you're due to after the insurance company will also cover the trial. It also protects your building property from accidents like fire, water damage, hail/wind, as well as your business property like acrylic powders, gels, brushes, UV lamps, furniture, and anything you use as business equipment.
General Liability Insurance
While it's incorporated in a BOP, you may feel that you need extra coverage on that area, or perhaps you would like getting a General Liability Insurance instead of a BOP. In any case, you will get your money worth. Claims for general liability are filed every day, from every type of business, and although you may think that a customer walking in to get his kid a haircut won't file a lawsuit against you because the kid grabbed some scissors and cut himself by mistake, it's something that's completely possible to occur. It's up to you how well covered you want to be in that situation or a similar one.
Professional Liability Insurance
Let's say a regular client walks in and ask one of your nail artists to do a particular nail style; but the customer feels unsatisfied by the result, and the next day, you receive a letter notifying you that a claim has been filed due to emotional damage done to the client. Unbelievable as it may sound, you've probably heard this case more than one time, and to protect yourself from it we recommend you get  Professional Liability Insurance. It covers you from any professional mistake a customer claims you made, even if it isn't true. The policy would take care of the claim and assign you an attorney. All expenses are covered including legal fees and settlements if found guilty. If you are found not guilty, you could get financial compensation because your Nail Salon was out of business for the duration of the trial.
Product Liability Insurance
Despite the hard work you put to ensure the products you use and sell in your Salon are high-quality, there is still the chance that those products fail to work correctly during a nail application at home. These product defects represent serious risks neither your clients, your business or you can afford. Products Liability covers the expenses from litigations originated from a product or equipment sold at your Nail Salon.
Workers' Compensation Insurance
If you own a Nail Salon and have a couple of nail technicians working for you, you need Workers' Compensation for each of your employees. It's required by law so you would get in trouble if you don't have it. Nail Artists are in charge of pleasing the customer, bonding with them during the task, that's why if the nail technician changes Nail Salon, so will the client. You need to keep your employees happy, so their clients remain to be your clients.
Business Interruption Insurance
It covers the actual loss of business revenue caused by a suspension of operations due to theft, fire or extreme weather, including the income that is lost during the closing.
For example, the theft of the salon equipment would cause the closure for an indefinite time of the Nail Salon. This policy can cover the income that you stop receiving while you acquire new products.
Crime insurance protects your Nail Salon against various types of crime that can occur in your establishment. This includes cases of theft by a dishonest employee or customer, shoplifting of nail products sold, and vandalism to your equipment or building.
Now that you know the risks your business is taking you can start preparing against them. Call our insurance agents and choose the insurance coverage that you think will help your Nail Salon the most. We have several agents waiting to solve any doubts that you may have left and to help you get the best policy for your business today.
We Work With the Best Carries