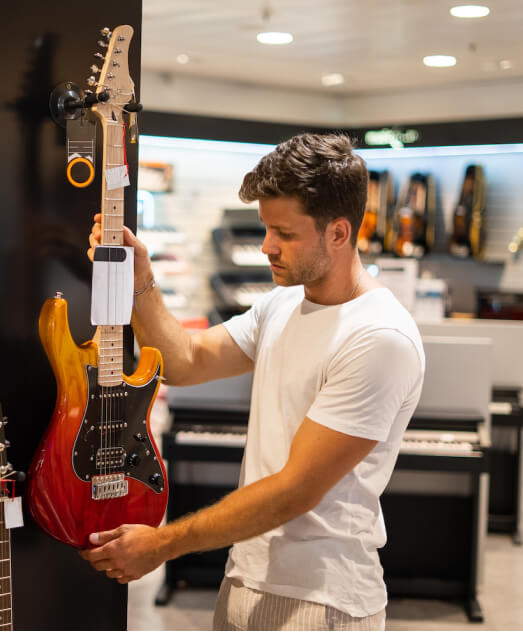 Musical instrument stores are fast becoming lucrative businesses, as public schools and social activism circles promote attention to the arts among middle school, high school, and college students. But the sale of musical instruments also poses many issues when it comes to liability. If at any point in the development of your business, you begin to store and use credit card information for monthly purchases, expand the expensive inventory of instruments, or experience the potential for property damage that comes from housing and selling these things, then general liability for music stores is a must-have type of protection that can keep your business afloat for years to come.
Small Business Liability is a provider of general liability insurance for music business owners. Our focus is to provide comprehensive, all-inclusive business insurance packages for our customers. By working closely with our clients and understanding their needs as customers, we are able to cater your commercial liability insurance to meet the needs of your specialized music store business.
More About Music Store Insurance:
Small business owners across the United States are often required to have some form of general liability insurance on hand to protect their customers from accidents at their hands. While requirements vary from state to state, it's better for your reputation as a business owner that you obtain liability coverage. Music store insurance is considered a specialized form of insurance protection, which provides music industry-related insurance solutions to the entities who are insured by it.
In general, coverage of this type includes:
coverage of bodily injury and their resulting medical costs
coverage of business income in the event that your day-to-day business routine is interrupted due to an accident you are found to be at fault for
rental property coverage in the event that your rented property is damaged
non-physical damages that are caused by employee dishonesty, false advertising, or similar circumstances
accidents caused to a third party during any sort of business-related event, like music lessons
Although there are many more specific events that might require this type of coverage, especially if your business experiences an interruption in its day-to-day function, the basic understanding of this type of insurance is that it covers any incident that causes harm to a non-business entity's physical state, emotional state, or property.
Because this insurance only covers third parties, it does not include:
workers compensation insurance
life insurance for employees
additional coverage of personal property, like sheet music, instruments, and owned property
natural disasters and their consequential damage
business income insurance
Even though general liability can't cover these things, working a competent insurance agent will be able to get you not just an affordable policy, but you will also be able to bundle insurance policies like life insurance, workers compensation, and commercial auto insurance together to save you even more money in the long run.
Don't risk facing a liability claim without the right insurance to protect you. Our policies provide substantial coverage, as well as the peace of mind you need to bring music of all genres out into the world. To get started with your new and affordable insurance policy, get a hold of one of our agents at Small Business Liability today! We provide all different types of insurance coverage, from property insurance to specialized general liability insurance. We'll set you up with an insurance agent who will get you a free quote before the coda ends!
We Work With the Best Carries