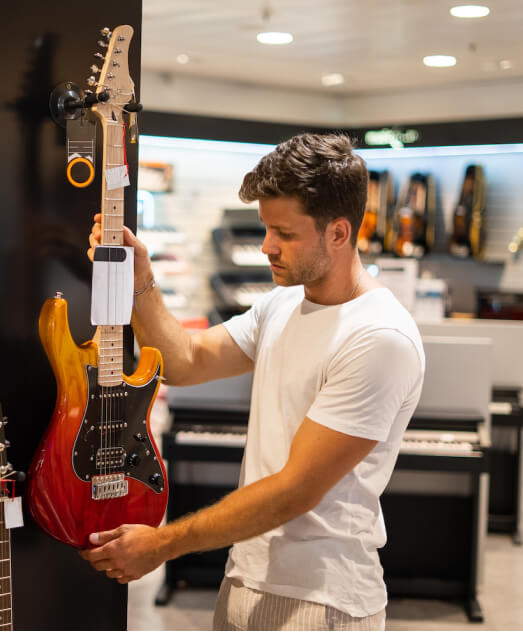 Music is a fantastic event of life. It moves you deep within, for better or for worse, it gets your body going without you even noticing it, these feelings change their existence in such a way that they choose to dedicate their whole life to the music itself, either to create, listen or to help others. That's why we got Music Shops because people decided to put all of their investments in fulfilling their dreams of connecting with others through music. To see someone's dream crash and burn because they didn't have the correct information on how to get protection is not what we aspire as insurance providers; au contraire, we want every dream to remain alive, to fight adversity for them and to provide the peace of mind they need to fulfill their chosen destiny.
Instruments are the main property to cover in case of some accident, so we'll tell how you can get complete coverage for them. Then we'll list all insurances that you need to provide coverage to the rest of your business.
Commercial Property Coverage Insurance
When it comes to protecting the main asset of your Music Shop, this is what you want to focus. Commercial Property creates coverage for your musical instruments as well as any other property related to your business, like chairs, tables, and so on, in case of fire, theft, water damage or vandalism. The catch is to get enough coverage for all of your inventory so when you are providing your insurance agent with your info, make sure to give an accurate description of your inventory's value to avoid running short in case of any of the previously mentioned perils.
Bailee Coverage Insurance
This insurance provides coverage for any property that's under your custody. Most Music Shops offer maintenance service to customers which could lead to several instruments from others being under your responsibility for days. To get the best benefit from this, make sure to give an approximate value of the musical instruments you usually get under maintenance.
General Liability Coverage
You get General Liability to protect your business from any lawsuit regarding an accident occurred in your business premises that led to injury or personal property damage. For example, a customer trips over some equipment lying on the floor and suffers injuries from it. The insurance will cover all legal expenses and provide you with an attorney.
Other insurances provide general business coverage, including for your income and your employees. These are the following:
Business Income Coverage
This insurance provides coverage according to your net income and payroll in case your business is under rebuilding process due to a covered disaster; it also covers any revenue or profit lost due to a covered peril. It's essential to understand that for this coverage to take place, the reason for your income halt must be due to an already covered risk. While on it, it would be wise to obtain Business Income Extra Expense coverage, in case you decide to open a temporary shop while waiting for your main building to finish its rebuilding process.
Employment Practices Liability
If your employees file claims against your business for any illegal practice like sexual harassment or any form of discrimination, you will get coverage for legal fees even if the claim turns out to be false or for any settlement reached. Bear in mind that both the incident and claim filing must have happened while you are under coverage, so if the alleged incident took place before you got this policy but the claim was after, you won't get the benefits for that particular claim.
Employee Dishonesty Coverage
This coverage takes place if any of your employees steal money from your business or if they participate in illegal acts that cost your company any money.
Workers Compensation
You're legally obliged to present your employees with workers compensation in case of any injury or accident while they were performing their job. It provides medical coverage, ⅔ of payroll and expenses for new job training if they're unavailable to continue performing their work.
Depending on the size of your Music Shop you may need less or more coverage, so be sure to ask our insurance agent for real and expert advice that fits your necessities. We love aiding people who are interested in getting coverage. For us, it's straightforward to explain anything that you need help. So get your quote today and start reaping the benefits on insurance coverage.
We Work With the Best Carries