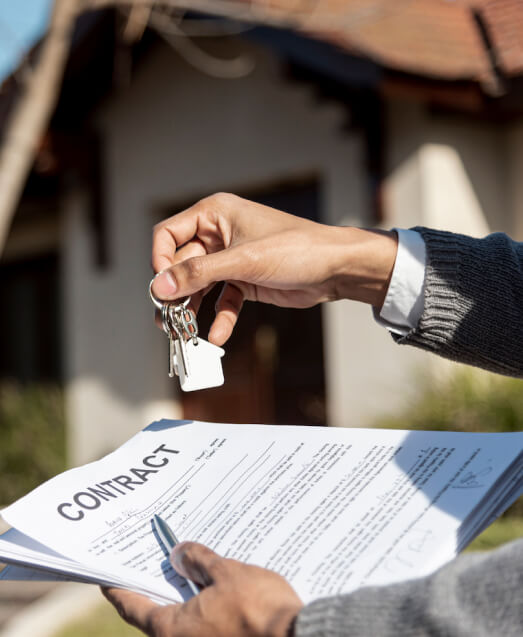 Look Here for
the Best Insurance
Click Here
REAL ESTATE BUSINESS OWNERS GET ANSWERS RIGHT HERE, RIGHT NOW.
OPPORTUNITIES IN THE REAL ESTATE INDUSTRY 
The General Outlook For Small Real Estate Companies 
The Real Estate Industry of the US is growing at a steady pace. This mega-industry contributed 6.2% in GDP of the US last year. The Census Bureau tells us that 5.34 million used and 667,000 new homes were traded in 2018. The real estate industry showed a significant improvement in its growth after the 2008 economic crisis. However, smaller players are facing very real barriers to success.
 5 Barriers Facing Small Real Estate Businesses In The US
1. Growing Competition In The Real Estate Industry
The recession-stricken Real Estate Industry got its growing pace back after the economic crisis of 2008. Since then, the overall real estate industry has seen a significant improvement in its growth. The recent wage estimation report by the Bureau of Labor Statistics shows that, except in a few states of the US, real estate agents had a decent increase in their annual income in 2018. High earnings in any industry, triggers the participation of new workers.
Similarly, the industry experienced a great influx of new members joining the National Association of Realtors. Its total membership grew from 1.2 to 1.3 million in 2018, which was a significant increase on the previous year.
Naturally, this increased number of real estate agencies increases competition in the US market. According to the statistics, 71% of real estate agents try their luck in residential real estate. Residential real estate is assumed technically straight-forward in comparison to commercial real estate. Increased participation in specific real estate sectors like this makes it increasing difficult for small real estate businesses to make big profits.
2. Less To Go Round
Low inventory is probably the biggest challenge for real estate agents that deal with residential real estate. According to the analytical reports of Realtor.com, a declining trend in the real estate inventory would continue in 2020, as well.
Low inventory means small or less profit for any already struggling small real estate agencies. As per the Washington Post reports, new property listings decreased by 7% in June 2019. For instance, only 8,504 residential properties were listed for trading in Washington: that's the lowest number of listed houses since 2013 in any state. This declining trend is persistent in most parts of the US. However, commercial real estate is not as badly affected as the residential real estate due to low inventory.
3. Costly Lead Generation
Most people join the real estate business, assuming it easy than other technical fields. But much technical knowledge is required for harvesting leads in the real estate industry.  NAR statistics reveal that 48% of active real estate firms admit that the incorporation of technology is the toughest challenge for a real estate firm. Unfortunately, only 31.5% of real estate persons incur marketing expenses of more than $400 for their real estate business. Reliance on traditional means for lead generation to cut down the marketing cost is not a good move in the digital age. Poor technical knowledge and lack of the latest marketing strategies shun the growth of real state persons.
4. The Dangers Of Digital
The digital age has brought many perks for real estate buyers. They can hunt down a home or a building of their dreams by a click on their devices. Listing portals like Zillow, Redfin, and Trulia are taking over the real estate market from the small scale real estate persons. Some real estate listing sites charge as low as a 1% selling fee from the consumers in different service plans. NAR reported in 2017 that 51% of buyers selected house for purchase at an online listing portal. Listing sites also provide a more calculated insight into the real estate trading to the consumers. These meaningful insights and a direct selling approach are developing a bond between the millennial buyers and listing portals — millennials accounted for the highest  — 34% of total residential real estate buyers in 2017.
5. The Power Of Insurance For Small Real Estate Businesses
Insurance for small real estate agencies and affiliated service providers is becoming more and more important. You are already up against an industry favoring the big players. As with most small businesses in the US, lawsuits and claims payouts could mean the end of the business. Can you afford to be without insurance coverage that will take care of these dangers?
The Right Insurance Coverage Will Make Your Small Real Estate Business Competitive
Protect Your Reputation
Insurance protects against employees misrepresenting your company
Plan For The Future
Insurance protects against unforeseen risks
Lawsuit Protection
Vital protection in a litigious society
Prevent Financial Ruin
Insurance helps your business survive disaster
Get Peace of Mind
Insurance protects the little guy
Look Here For The Best Insurance For Your Small Real Estate Business 
Protect Your Small Real Estate Business. Get A Free Insurance Quote Now
We Work With Top A-Rated Carriers
Take action NOW!
Contact John for the best quote you'll get all day!